There's a new project posted on the main website – a simple RF signal generator that (mostly) covers the range 640 MHz to 5.8 GHz.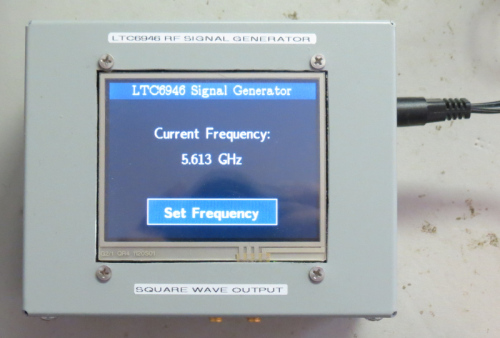 The project can be considered as being in two halves. First is the RF half. This is provided by a Linear Technology LTC6946 demo board. The 6946 is a PLL synthesizer. Put simply, you program its internal control registers with suitable PLL multiplication / divide factors, and it outputs the resulting frequency. The synthesizer is programmed via an SPI port.
The second half is a Texas Instruments Stellaris Cortex-M3 development board with a 3.5″ touch-screen color display. It's programmed to be the user interface – you can enter your desired frequency on the touchscreen, it calculates the values for the various LTC6946 internal registers, then programs them via SPI. It provides a really nice user interface to what is otherwise a very simple project. Then everything is wrapped up in a simple metal box.
Full information on the build, including the source code for the software, is provided on the main site. Enjoy!